The Top 10 Website Session Recording Tools for 2022
The best website session recording software tools to record your website visitors' actions and replay the recorded videos. Here are the 10 best tools.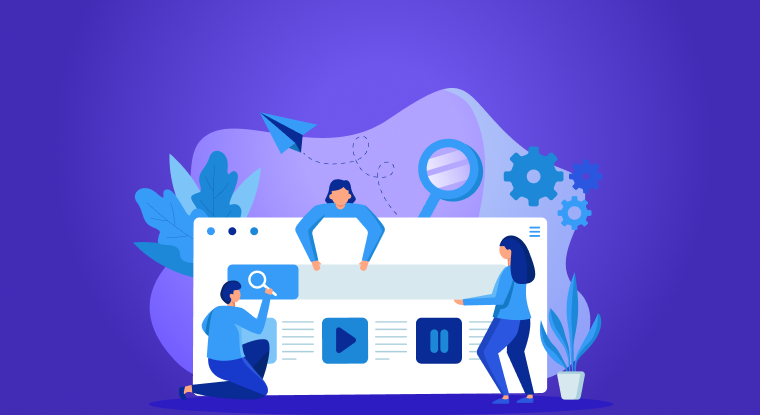 ""I'm a bit of a freak for evidence-based analysis. I strongly believe in data."" Gus O'Donnell,
How does Session Recording Work?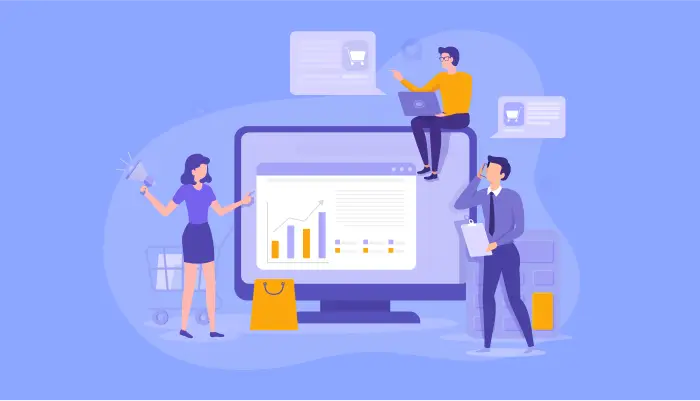 The session recording software is a tool that enables you to capture real-time visitor browsing sessions on your website so you can review them later and get a peek of your audience's behaviour. Customers' movements, clicks, taps, and scrolling over numerous pages of your website are just a few of the behaviours that are captured.
You may analyze how visitors use your website by using session recording on your website. You may address these problems and improve the user experience (UX) of the page by seeing where users struggle, run into bugs, abandon a page, get bored, and many other things. Ultimately, you'll boost conversion on your website. Session recording: What is it?
Why Record Website Sessions?
Recording website sessions enables you to monitor visitors' activities, which is crucial for enhancing their user experience. You have the ability to virtually accompany your customers while they browse your website due to the programme. By recording sessions, you can find: - How visitors navigate through your website. - What happens when users click your buttons? - How they navigate your websites. - if there's a problem with your website somewhere.
Making data-driven decisions will be simple for you if you use session recording. Sharing recordings for viewing with your staff and shareholders is simple. This makes it easier to communicate issues and ensures that everyone on the team is aware of the situation. The team will be able to quickly fix the issues for a better user experience if they are identified. You can also view website recordings to collect proof of the website's original state and compare it with the last state of the platform after changes have been made.
Website recording aids with user comprehension. You'll comprehend their reasoning behind every choice they make, such as why certain users barely scroll beyond a specific point on a web page. Additionally, you will comprehend which product designs best engage your target market. You can get immediate feedback on your clients' perspectives from session replay.
The Top Ten Website Session Recorders for User Monitoring in 2022
You may keep track on your users' actions with the help of website monitoring, and the market place is full of tools. The top 10 pieces of software for increasing website conversions are listed below.
SiteRecording
SiteRecording efficiently keeps track of user activity. 500apps has created a website recording software. You can make better digital decisions and enhance website user experience using SiteRecording.
By analysing data, the software keeps track of each visitor's travel. It keeps track of all user navigation and actions. SiteRecording uses a visitor recording algorithm to collect data that will help you better understand how users interact with your website.
The SiteRecording software allows you to playback every recorded session and share with your team the specifics of where visitors are spending the most time on your website. By building a funnel that tracks each user starting from the conversion entry, the programme assists you in increasing conversion.
A combined price plan is offered by the SiteRecording software. For just $14.99, you may use this website recording tool and more than 37 other similar tools. If the aforementioned offer does not appeal to you, you can take advantage of a trial period before beginning any of SiteRecording's monthly or yearly plans. They are reasonably priced.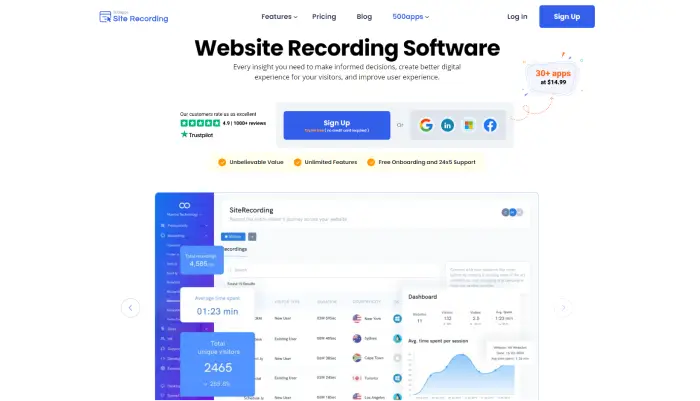 HotJar
Hotjar is a simple, virtual, and visually appealing solution to find, track, gather, and convey consumer needs. Using the HotJar programme, you can understand your users and identify their key issues. By examining your user behaviour, the application enables you to ask the appropriate inquiry at the appropriate time.
The Hotjar session recording software has an excellent user interface and is simple to use. You may take use of features like heat maps, conversion opportunities, mobile device analysis, data segmentation, survey, analytics, and many more with the Hotjar software.
The software offers four pricing plans: a free-for-ever Basic plan, a $39 per month Plus plan, a $99 per month Business plan, and a $399 per month Scale plan.
SmartLook
Smartlook keeps track of user activity on websites and in mobile apps. It is software made to capture user screen recordings on your websites. You can watch what website visitors click, type into form fields, where they spend the most time, and how they navigate through each page of your website with the Smartlook session recording software.
With the help of the software's features, you can quickly identify pertinent information among thousands of recordings. Finding replays of particular details on your website is made easier by event tracking. Additionally, you can delve deeply without raising many questions. The programme examines and filters the tape so you can begin watching 5 seconds before the action begins. This helps you save a tonne of time.
Smartlook offers four different pricing options: a Free plan, a Startup plan that costs €31 per month, a Business plan that costs €79 per month, and a custom Ultimate plan that is priced according to your demands.
Livesession
Livesession is a web analytics that features user monitoring, site session replays, and customer segmentation. You can use the website recording tool Livesession to track visitor behavior analytics to enhance user experience (UX), raise conversion rates, and generate income. To solve customer issues, learn how they use your services, and enhance their overall experience, use Live Session.
Campaign management, conversion funnels, referral tracking, reporting and statistics, user interaction tracking, user research analysis, and many more features are included with the Livesession website recording software.
Live Session doesn't provide any free plans; instead, they have four paid options: the €254 Business plan, the €153 Startup plan, the €76 Starter plan, and the €38 Micro plan.
LuckyOrange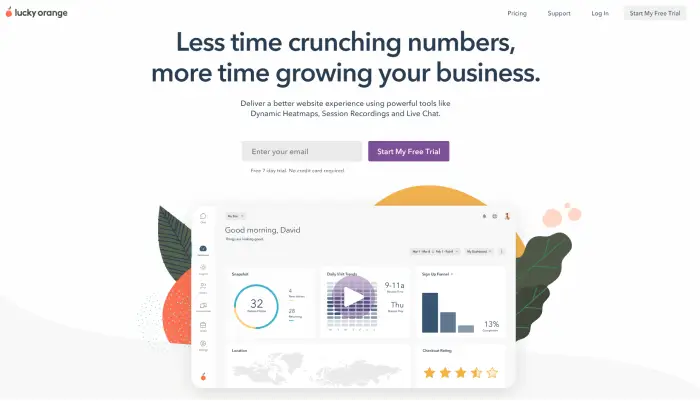 Every time a user visits your website, LuckyOrange automatically records their activity. It is a comprehensive session recording tool for companies of all sizes and sorts. The software aids website owners in understanding why some people are not converting at a sufficient rate. With LuckyOrange, you can view everything a visitor does on your website through progressive heatmaps and session records. Using data from forms and funnels, polls, and surveys, you may also spot conversion drop-offs.
You may anticipate features like activity tracking, campaign management, conversion rate optimization, conversion tracking, dynamic content, feedback management, and more while utilising the LuckyOrange website recording software.
Although there is no free plan, you can use the LuckOrange software for a free trial period. They have a Starter Plan priced at $10 per month, a Small Business Plan priced at $20 per month, a Medium Plan priced at $50 per month, a Large Plan priced at $100 per month, and an Enterprise Plan priced to what ever you need it to be.
QuantumMetric
Quantum Metric provides measurable business effect and real-time digital information. Your digital applications' prospects are immediately quantified by the programme. You can quickly identify the intentions and frictions of your customers. Utilizing statistical analysis and artificial intelligence, the Quantum Metric session recording software shows opportunities prioritised by website performance, user difficulty, or downtime.
Real-time monitoring, conversions, funnels, user data, click tracking, user identity, annoyance tracking, and many more features are all provided by the software.
For any of the QuantumMetric price plans, you can request a quote. They do not, however, provide a free trial or a free plan.
Dynatrace
The Dynatrace session recording software allows you to capture every contact a customer has with your website. Dynatrace has a session replay interface that offers perceptions into the actions of your customers. With the support of these insights, you can produce flawless user experiences while also unifying business and IT. You can easily discover, troubleshoot, and fix customer issues with Dynatrace's user-friendly software. The programme creates the visual context as part of a fully integrated DEM solution and records, indexes, and visually replays each user's whole digital experience in a usable interface.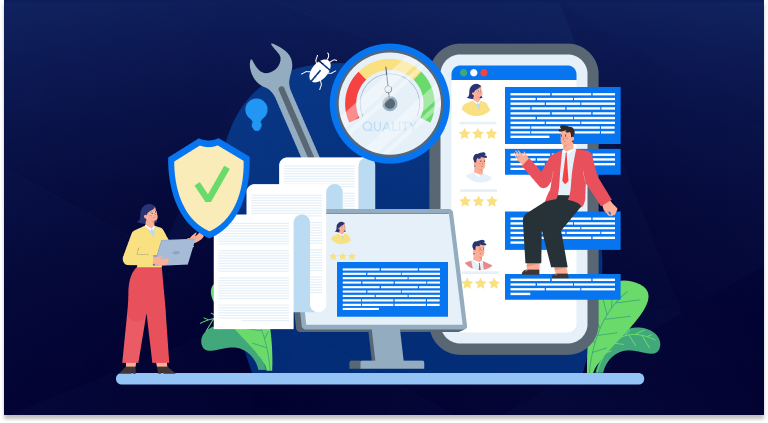 Analytics, vMotion events detection, discovery, performance management, self-healing at scale, and digital experience management are among the features of the Dynatrace website recording software.
By requesting a quote, choosing the features you require, and receiving a price estimate, you can purchase Dynatrace.
FullStory
With the Fullstory software, you may get features like session recording, website heatmaps, javascript A/B testing, error logging, form analytics, replay user sessions, eye-tracking heatmaps, and many more. An easy-to-use digital analytical tool called Fullstory gives you access to important qualitative and quantitative user experiences. Using Full story will assure your company of outcomes like more revenue through improved organisational efficiency, client growth, and retention. Fullstory provides a user-friendly platform that decreases expensive back and forth while increasing throughput. By requesting a quote, choosing the features you require, and receiving a price estimate, you can purchase Dynatrace.
The software is designed to assist you in finding solutions, comprehending problems, and identifying fresh possibilities for your website. You can use proactive tools to comprehend what's occurring on your website, figure out why things are happening, and work with workflow and information sharing systems.
On Fullstory, you can take advantage of a free trial and a free plan. However, in order to use the Business and Enterprise programmes, you must request a quote.
Demodesk
Demodesk is an advanced customer tracking technology that aids in accelerating sales. They provide a recording feature with integrated sharing so that you can obtain crucial call details afterwards. The footage is also processed by the unlimited session recordings software. The Demodesk team is committed to enabling company representatives to excel by assisting them in engaging clients on a completely new level. The app connects to your tech stack without a hitch and makes it simple for teammates to share videos.
Audio and video conferencing, in-browser applications, scheduling, recording, notifications blockers, and many other capabilities are just a few of Demodesk's features.
Pricing for Demodesk comprises a $25 Basic plan for solopreneurs, a $45 Pro plan for small teams, and a business plan with individualised pricing.
CrazyEgg
With CrazyEgg, you can explore new ideas, fix what is broken, and enhance what is currently working. A variety of enterprises can use the session recording software from Crazyegg to evaluate visitor behaviour trends across email and marketing campaigns. The platforms give you and your team the ability to look into customer journey mappings, pinpoint distinct audience segments across multiple web sites, and highlight issues that clients might run into.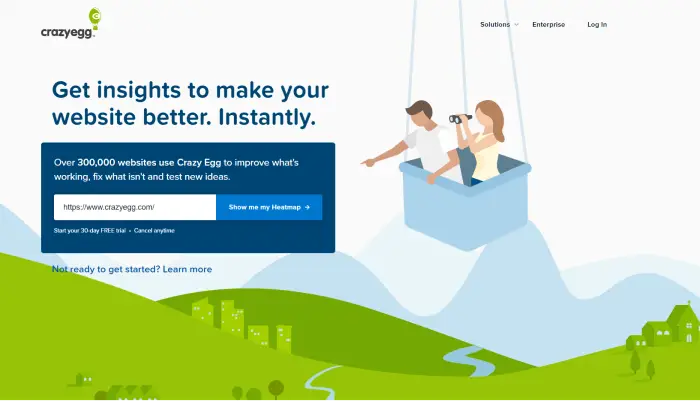 Annotations, behavioural analytics, campaign segmentation, competitive analysis, dashboard, data visualisation, and other capabilities are only a few of CrazyEgg's features.
Crazyegg provides a Basic plan for $24 per month, a Standard plan for $45 per month, a Plus plan for $99 per month, a Pro plan for $249 per month, and a customised Enterprise plan.
Conclusion
"The goal is to turn data into information, and information into insight." – Carly Fiorina,
The usage of website session recording tools enables businesses to record user actions on their website, such as clicks, taps, scrolling through several pages, etc., and process those events so that they may be replayed and viewed again.
To understand fully how your clients engage with your website, as a business owner you must employ session recording software as a component of your optimization toolkit. By using website recording tools, you may put yourself in your clients' shoes.
Download SiteRecording at this time from SiteRecording.com to keep track of your customers' activity.
Why SiteRecording?
#1
Distinctive Dashboard Analytics
#3
User Behavior Analytics
#4
Improved Engagement Rate
#5
Real-time Monitoring System
#6
Customer Behaviour Analytics
#7
User Experience Optimization
#8
Improved Conversions & Revenue
#9
Unbelievable pricing - the lowest you will ever find
#10
Everything your business needs - 50 apps, 24/5 support and 99.95% uptime