Best Top 10 Website Session Recording Softwares for User Monitoring in 2022
With website recording software, you walk in the shoes of your customers. Here are the top ten website recording software of 2022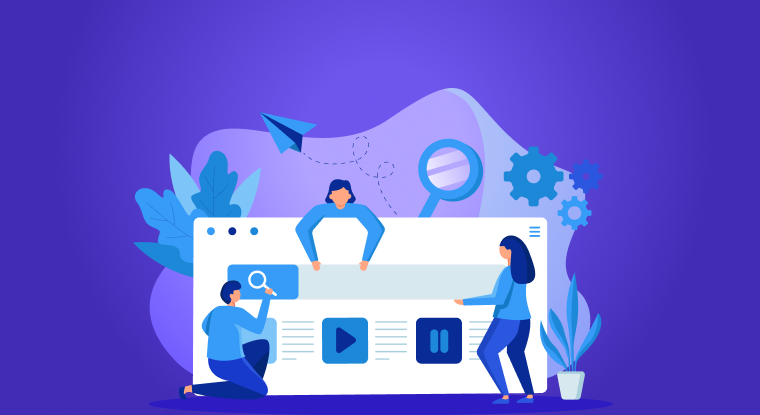 "I'm a bit of a freak for evidence-based analysis. I strongly believe in data." Gus O'Donnell
What is Session Recording?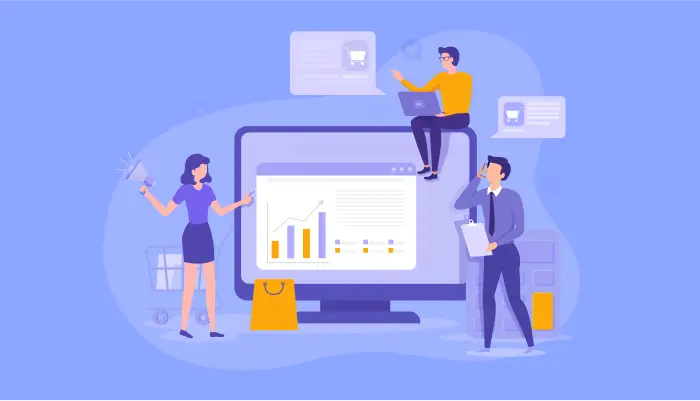 Session recording software is a tool that allows you to record your website's browsing sessions visitors in real-time so you can see it at a later time and glimpse your customer behavior. Some of the actions of customers recorded include mouse movements, clicks, taps, and scrolling across many pages of your website.
Using a website session recording enables you to understand how users interact with your website. You get to see where they struggle, encounter bugs, abandon a page, get bored, and many more, so you can fix these issues and optimize the page's UX. Ultimately, you will increase your website's conversion.
Why Use Website Session Recording?
Website session recording helps you walk through the journey of your website's visitors, which is very important to improving their user experience. The software gives you the power to virtually stand beside your customers as they walk through your website. With session recording, you can learn:
How users navigate your website

How users click and use your buttons

How they move around your webpages

If there's an issue somewhere with your website.
Using session recording will enable you to make data-driven decisions easily. You can easily share recordings with your team and shareholders to watch. This helps in communicating problems better, and every team member fully understands what is going on. By recognizing the problems, the team can easily resolve them for a better user experience. You can also view website recordings to collect evidence of the website's initial state and compare it with the last state of the platform after changes have been made.

Website recording helps you understand your user. You will understand why they make every decision, e.g., why some users hardly scroll beyond a particular place on the web page. You will also understand what product design has the best effect on your customers. Session recording gives you instant feedback on how your clients think.
Best Ten Website Session Recording Software for User Monitoring in 2022
Website monitoring gives you the power to monitor your users' behavior, and there are many resources in the digital market. We have a list of the top 10 software you can use to increase the conversions on your website.
1. SiteRecording
SiteRecording effectively monitors the behavior of your users. It is a website recording software designed by 500 apps. With SiteRecording, you can create better digital decisions and improve the user experience for your website.
The software records every visitor's journey by analyzing data. It tracks all actions and navigations of your users. SiteRecording uses a visitor recording algorithm to capture data to understand your users better as they move through your website.
You can also replay all recorded sessions on the SiteRecording software and share the details of where your customers are spending more time on your website with your team. The software helps you increase conversion by creating a funnel that tracks each user from the conversion entry.
The SiteRecording software offers a combo pricing plan. You can enjoy the services of this website recording application and about 37+ other related applications for just $14.99. However, if you are not interested in the offer above, you can enjoy a trial period before starting any of SiteRecording's monthly or yearly plans. They are quite affordable.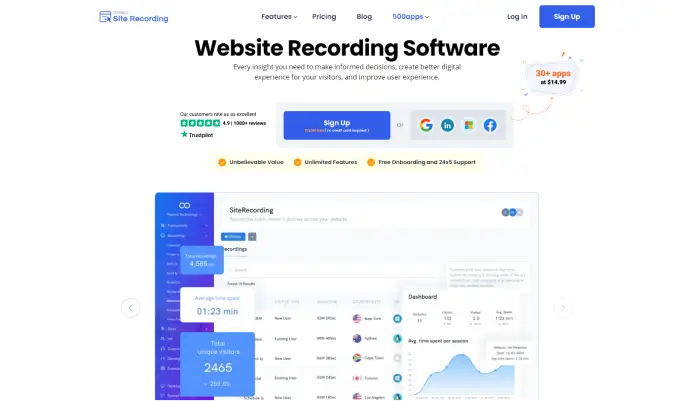 2. HotJar
Hotjar is an intuitive, virtual, and visual way to discover, monitor, consolidate and communicate user needs. With the HotJar software, you can empathize with your users and see where they get stuck. The application helps you to ask the right question at the right time by analyzing your user behavior.
The Hotjar session recording software is easy to implement with a great user interface. Some of the features you can enjoy with the Hotjar software are heat maps, conversion opportunities, mobile device analysis, data segmentation, survey, analytics, and many more.
The software offers four pricing plans: a free-for-ever Basic plan, a $39 per month Plus plan, a $99 per month Business plan, and a $399 per month Scale plan.
3. SmartLook
Smartlook records user movement on websites and in mobile applications. It is software designed to record the screens of users on your websites. The Smartlook session recording software helps you see what visitors click with their mouse, what inputs they make into the form field, where they spend the most time, and how they go through each page of your website.
The software has features that allow you to find relevant information in thousands of recordings in no time. Event tracking helps you find replays of specific detail on your website. You also get to dig very deep without asking many questions. The software analyzes and filters the recording and lets you start watching at the right month—5 seconds before the action starts. This saves you lots of time.
Smartlook offers four pricing plans: a Free plan, a €31 per month Startup plan, a €79 per month Business plan, and a tailor-made Ultimate plan—where you can customize your needs and get priced appropriately.
4. Livesession
Livesession is a web analytic software with site session replays, user tracking, and customer segmentation. The Livesession website recording software helps you analyze customers' behavior to improve UX, increase conversion, and boost revenue. Use Live Session to solve your customer's problems, find answers about how they use your products, and optimize their overall experience.
The Livesession website recording software features include campaign management, conversion tracking, referral tracking, reporting and statistics, user interaction tracking, user research analysis, and many more.
Live Session does not offer any free plan; however, they offer a €254 monthly Business plan, €153 monthly Startup plan, a €76 monthly Starter plan, and a €38 monthly Micro plan.
5. LuckyOrange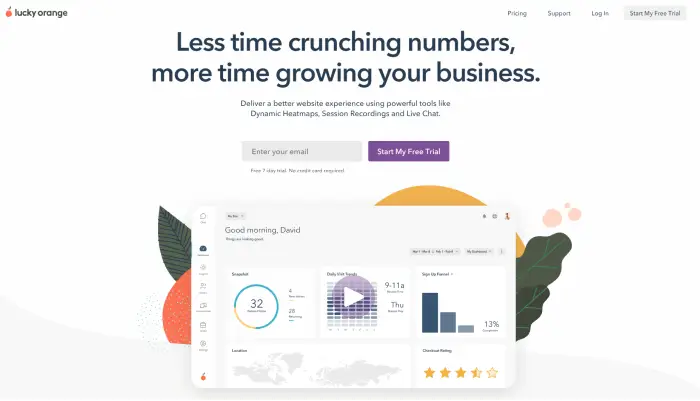 LuckyOrange automatically creates a recording of every user to your website. It is an all-in-one session recording software for businesses of all types and sizes. The software helps website owners to understand why they are not getting enough conversions from some users. Through progressive heatmaps and session recordings, you can see everything a customer does on your website with LuckyOrange. You can also identify drop-offs in the conversion process using funnels and form analytics, and polls.
Some of the features you can look forward to while using the LuckyOrange website recording software include; activity tracking, campaign management, conversion rate optimization, conversion tracking, dynamic content, feedback management, etc.
Although there is no free plan, you can enjoy a free trial period on the LuckOrange software. They offer a $10 per month Starter Plan, a $20 per month Small Business plan, a $50 per month Medium plan, a Large $100 per month plan, and a customized Enterprise plan—where your needs equivalently determine pricing.
6. QuantumMetric
Quantum Metric offers real-time digital insight and quantified business impact. The software automatically quantifies opportunities in your digital applications. You will be able to discover customer intents and frictions rapidly. The Quantum Metric session recording software uses statistical analysis and machine intelligence to show opportunities prioritized by website performance, user struggle, or downtime.
The software offers real-time reporting, conversions, funnels, user data, click tracking, user identification, frustration tracking, and many more.
You can get a quote for any of the QuantumMetric pricing plans. However, they do not offer a free trial or free plan.
7. Dynatrace
You can record all interactions that customers have with your website with the Dynatrace session recording software. Dynatrace possesses a session replay interface that provides insights into your customer's behavior. These insights help you create perfect user experiences, and it aligns your business and IT with a singular view. With Dynatrace, you can intuitively identify, troubleshoot and resolve customer issues with simple to use the software. The software captures, indexes, and visually replays the complete digital experience of each user in a relatable interface and produces the visual context as part of a fully integrated DEM solution.
The Dynatrace website recording software features include analytics, vMotion events detection, discovery, performance management, self-healing at scale, and digital experience management.
Dynatrace pricing is done by requesting a quote, you have to select the features you need, and the equivalent price is communicated to you.
8. FullStory
Get session recording, website heatmaps, javascript A/B testing, Error logging, form analytics, replay user sessions, eye-tracking heatmaps, and many more with the Fullstory software. Fullstory is an intuitive digital analytic tool that provides you with key qualitative and quantitative user experiences. Using Full story will guarantee results like increased revenue through better conversion, better organizational efficiency, a boost in customer growth, and retention for your business. Fullstory offers an easy-to-use platform that reduces costly back and forth and increases throughput.
The software is dedicated to helping you answer questions, understand issues, and uncover new opportunities for your website. You get to understand what's happening n your website proactively, discover why things are happening, and collaborate tools designed to streamline workflow and share information.
You can enjoy a free trial and also a free plan on Fullstory. Although, you will need to request a quote to enjoy the Business and Enterprise plans.
9. Demodesk
Demodesk is an intelligent customer tracking platform that helps you increase the velocity of sales. They offer a recording functionality with integrated sharing to access essential information from call later. The session recording software also processes the video. The Demodesk team is dedicated to empowering business representatives to become top performers by guiding them to engage customers on a whole new level. The software seamlessly connects with your tech stack and allows for convenient sharing of videos among team members.
Some of the features of Demodesk include audio and video conferencing, in-browser application, scheduling, recording, notifications blocker, and many more.
Demodesk pricing includes a $25 Basic plan for entrepreneurs, a $45 per month Pro plan for small teams, and a custom pricing Business plan.
10. CrazyEgg
With CrazyEgg, you can improve what's working, fix what isn't, and test new ideas. Crazyegg session recording software is designed to help a wide range of businesses analyze visitor behavioral patterns across email and ad campaigns. The platforms allow you and your team to investigate customer's journeys, identify various audience segments across different web pages, and highlight problems customers can experience.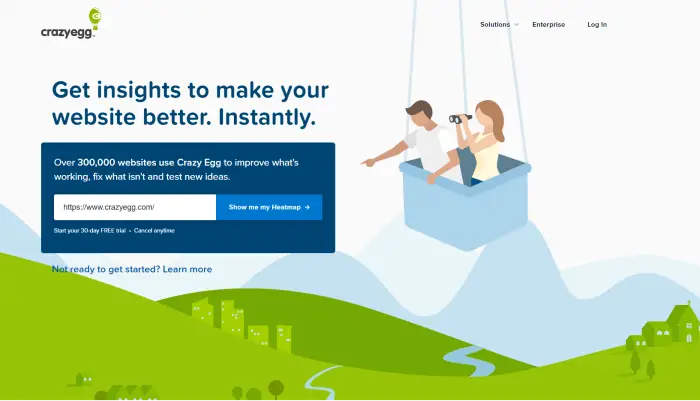 Some of the features of CrazyEgg include annotations, behavioral analytics, campaign segmentation, competitive analysis, dashboard, data visualization, and so on.
Crazyegg offers a $24/month Basic plan, a $45/month Standard plan, a $99/month Plus plan, a $249/month Pro plan, and a customized Enterprise plan.
Conclusion
"The goal is to turn data into information, and information into insight." – Carly Fiorina
The use of website session recording tools helps businesses capture the actions of people who land on their website through mouse movements, clicks, taps, multiple pages scrolling, etc., and help process them so that they can be replayed and rewatched.
As a business owner, you can use session recording software as part of your optimization toolkit to get a real understanding of how your customers interact with your website. With website recording software, you walk in the shoes of your customers.
We strongly recommend SiteRecording to track your customer activities, download now at siterecording.com
Why SiteRecording?
#3
Monitor & Analyze User Behavior
#6
Customer Behavior Analytics
#7
Optimizing the User Experience
#8
Optimize Conversions & Increase Your Profits
#9
Numerous Locations & Languages
#10
Extensive Services & 24/5 Support
Join the SaaS Revolution
All-in-One Suite of 37 apps

Unbelievable pricing - ₹999/user

24/5 Chat, Phone and Email Support