Top 15 Website Visitor Tools to Monitor User Behavior
Fully understand your target audience and what they do on your website with real-time analytics. These top 15 effective web analytics tools will help you discover user trends and monitor behavior.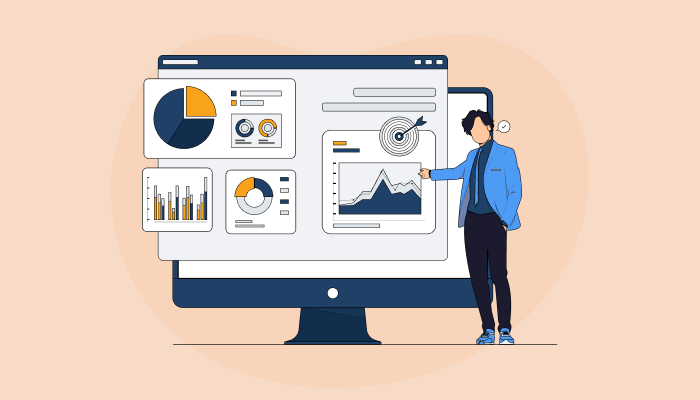 The success in conducting business online depends on how better you understand your customer or ideal customer. The toughest part is that the customer's online behavior is not constant. It keeps changing as their interest changes, and this impacts the way businesses conduct themselves. So, every firm started to dig deep into how their customers think and their needs to perform better than their competitors.
With proper website visitor tracking systems, you can understand everything about your ideal buyer - interests, online behavior, companies they interact with, and more. Performing the website visitor analysis often is the best way to stay ahead of competitors and retain more ideal buyers. This post will walk you through the tools you need to perform better website tracking.
Website Visitors and Their Significance
Website visitors are the random people who visit your website or several web pages of your site, either on desktop or mobile. The website tracking tools monitor the average hourly, daily, monthly, and yearly visits, often referred to as website traffic. The higher your website traffic is, the higher the chances of doing more business.
The website visitors are crucial because they uphold the website's success primarily. The more traffic you get, the higher your brand awareness and covert. So, more people can visit your website when your web pages are optimized for search engines (SEO), social media marketing, content marketing, and several others.
Top 15 Website Visitor Tracker Tools to Use
Below mentioned are the top 15 Website Visitor Tracker tools provide insights into website traffic, user behavior, website health, and more.
SiteRecording
SiteRecording by 500apps is one of the best website monitoring applications in the industry. It offers a visitor recording feature, allowing you to record your customer's behavior on your site while they go through it. This feature paves a path to improve your website functionality based on your customer's behavior. This website visitor tracker starts at $9.99/year, while the enterprise plan starts at $49.95/year.
Get started with the leading Website Visitor Tracker Tool today! Sign Up 14 Day Trial
SEMrush
Using SEMrush, you can know the total monthly visitors and monitor complete fundamental user behavior on your website as it helps you understand the best and worst-performing pages, the average duration of a visitor, and measure the source of the traffic - mobile or desktop. This website tracking platform offers various packages. However, it starts with a 7-day free trial, after which it is $119.95/year.
Similarweb
Similarweb can be a powerful website monitoring tool if you own a startup business or a reputed enterprise. The notable thing about this platform is that it helps you understand everything happening on your site - from total monthly visitors to knowing which location drives the most traffic to the site's comparison between yours and competitors for better business understanding through a simple process. However, you can reach out to the sales team for better quotes.
Google Analytics
Google Analytics is another powerful website visitor tracker. Not only it helps you measure the traffic, but also you can do a lot in one place - check out the conversion rates, find out the viral content on your site, and look into the bounce rate, total clicks, and more in a graphical representation. This is a free website monitoring tool, and it charges to enjoy every available feature.
HubSpot
Known for providing the best marketing CRM, Hubspot analyzes reports uniquely by grouping website visitors into subcategories, such as device, topic groups, and more. This way of website tracking helps you focus on developing the crucial parts of the business where the interaction is low. Initially, Hubspot offers a 7-day free trial, after which it costs $23/month.
SE Ranking
SE Ranking is a software that helps you focus more on the SEO aspects, apart from monitoring the website visitors. From understanding and implementing the ranking keywords to analyzing the traffic from specific locations, this website monitoring tool helps you with everything. The best part is that they even offer a complete website audit tool that finds every error. The base charges are $18.72/month.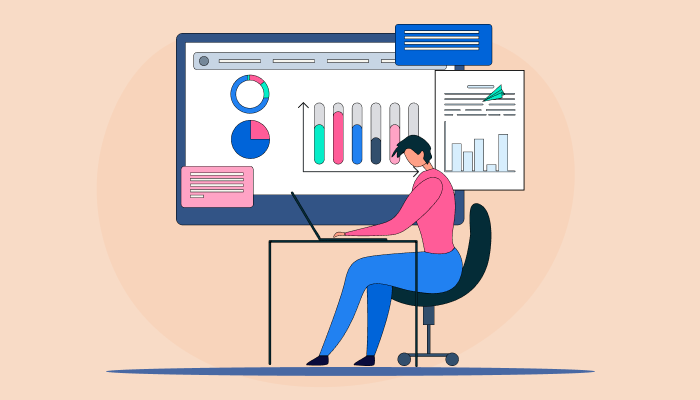 Mouseflow
The heatmap tool by Mouseflow helps you determine the website visitor's behavior and allows you to reply to understand where the problem lies and what exactly is stopping the visitor from taking your desired call to action (CTA). Likewise, you can create multiple heatmaps for all the pages to monitor. The prices vary from $24/month to $399/month.
Mixpanel
With a primary focus on the product team, Mixpanel is another website monitoring tool remaining its complete focus on the customers' behavior but comes with slight changes. You can monitor the reports by dividing the users into groups and seeing how every set of people behaves on your website. The best part is that one of its tools can merge duplicate data into a log and delete irrelevant information. This tool is free for startups, but the growth premium pack charges $24/month.
Serpstat
Serpstat is another web-tracking SEO-based tool with additional automated features. It is more of an auditing tool that helps businesses gauge organic traffic. Based on the visitor's behavior, from analyzing backlinks to URLs to performing keyword research, this tool optimizes every marketing campaign and automates most tasks. The packages vary with $48/month as the base price and $349/month as the premium price.
Woopra
Woopra is another customer-focused website visitor tracker that helps businesses build user-friendly applications and products with real-users analysis with data analysis tool. This tool helps customize and optimize your application and products separately for desktops and mobiles based on the visitor's interaction.
Similarweb
Similarweb is unlike most other mentioned tools. It approaches visitor tracking differently by analyzing your competitor's website rather than yours. With the customized data generated by Similarweb, you can understand your customer base and the visitors visiting your page against your competitors. Also, it shows the content and websites that your audience finds entertaining.
netFactor
VisitorTrack by netfactor is another website visitor tracker approaching the metrics differently by tracking your ideal customer's journey across the internet and comes up with a list for you to pinpoint people with higher buying surges so that you can reach out to them with customized messages at the right time that convinces them to buy from you. You can contact their sales department to find the best packages.
FullStory
FullStory is one of the best visitor-tracking tools in the market as their software tracks your website visitor's journey throughout your pages and helps you understand the exact point where visitors face an issue. You can retain more visitors this way by solving the problem. They offer free and paid services, while paid packages vary.
Fathom Analytics
Fathom is a simple and privacy-focused tool that's similar to Google Analytics but limited to a set of features, which helps you only focus on essential aspects of your website, such as analyzing monthly visits, unique visits, browser type, geographic location, and a few more. This tool costs $14/month for every 100,000 page views.
leady
Leady helps you identify the company and individual information that visits your website, allowing you to understand who your competitors are and your ideal customer. This way of finding information helps you contact other business founders to upgrade your product or reach out to individuals to sell your product or service.
Conclusion
Website visitors are the greatest assets for any business as they carry the potential to become their customers. However, you need to understand what your visitors need to become buyers. Today, many digital tools help you track your user behavior. Some are adequate with limited features, while some with endless features but do not meet expectations. In either case, finding the right website visitor tracking platform that helps you perform better is ideal when growing online.
Why SiteRecording?
#1
Distinctive Dashboard Analytics
#3
User Behavior Analytics
#4
Improved Engagement Rate
#5
Real-time Monitoring System
#6
Customer Behaviour Analytics
#7
User Experience Optimization
#8
Improved Conversions & Revenue
#9
Unbelievable pricing - the lowest you will ever find
#10
Everything your business needs - 50 apps, 24/5 support and 99.95% uptime