Why We Built SiteRecording - Visitor Recording Software
Find out the inside story of why we SiteRecording built and why there was a need of visitor recording software that helps businesses grow like the Fortune 500.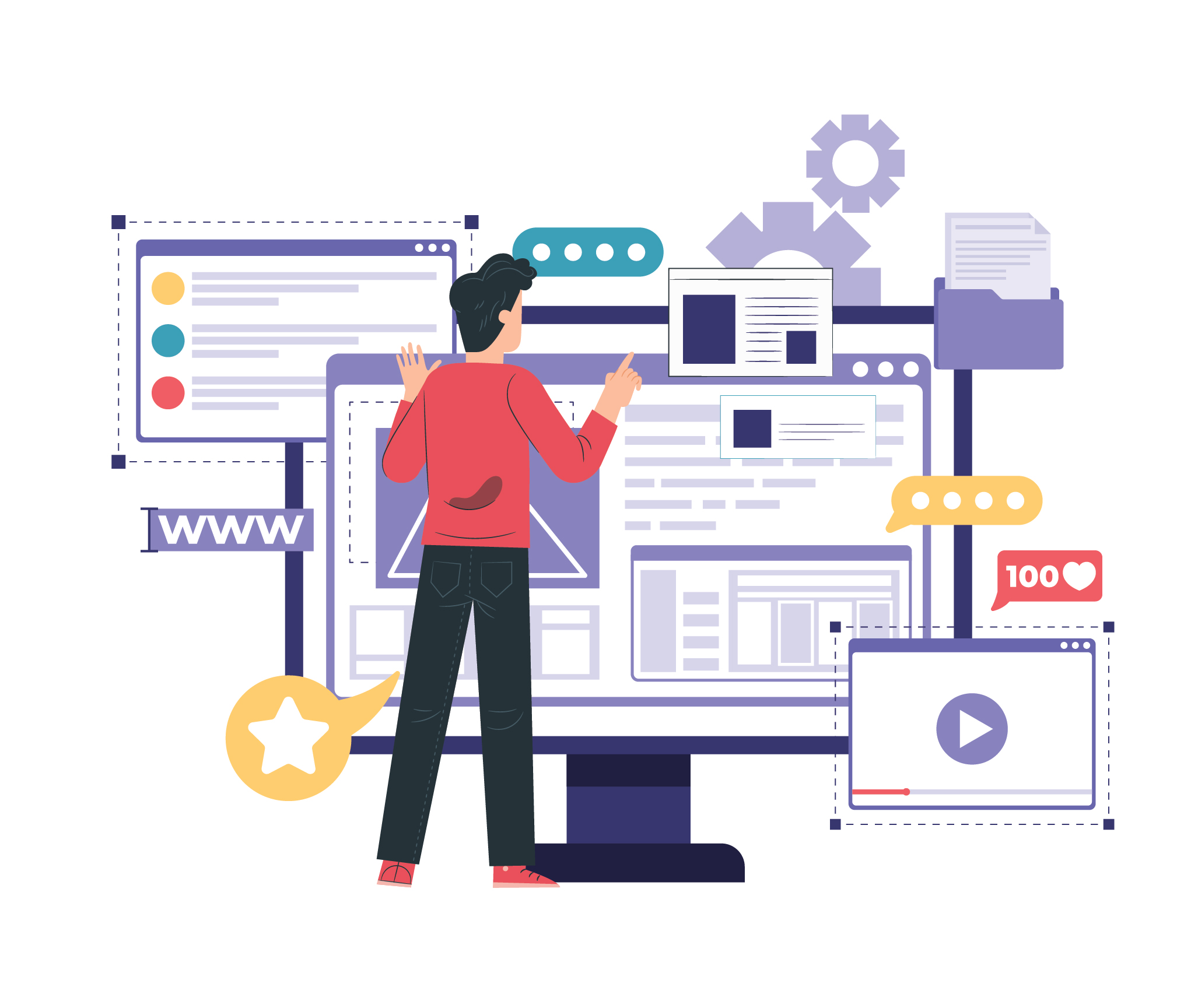 After developing our all-in-one Agile CRM software, we started exploring new lines of businesses for opportunity and growth. We have been extremely successful in catering to the needs of Fortune 500 companies, and during the course of our exploration phase, we found that we've the technical capabilities and business acumen to empower companies in their marketing by providing a better way to understand their website visitor behavior.
High bounce rate, poor conversion, and soaring drop-off rate are some of the challenges that any business wouldn't like to stumble upon. Marketers put different strategies and tools to stay away from these bottlenecks. But the truth is, these tools hardly depict the visitors' real-time monitoring activity on a website and the generated insights are not that useful to overcome the challenges mentioned above.
The Problem
The use of Google Analytics is quite common for many businesses to figure out user behavior to some extent by analyzing the time spent on the website. However, these analytics tools typically return detailed numbers. And these numbers alone to comprehend the exact reason behind certain user behaviors are not enough.

Therefore, we wanted a solution that goes beyond the numbers to improve the user experience for site visitors. We needed a solution with the ability to analyze the behavior of the visitor tracking tool and find out the exact reason that might lead to dropping off. The solution should also have the ability to identify the areas on a web page that might be creating a hindrance to a smooth customer journey.
The requirement
Once we had clarity on the prevailing challenges, our research team started gathering the detailed requirement for the solution. And we figured out that the tool must have the following capabilities:
Generates explicit and visual data points about the user's activities on the website
Gives the context of the visitor's behavior
Performs aforementioned tasks quickly without requiring a steep learning curve
Records all engagement including mouse movement, clicks, and more
Store and compile data along with the actual video
Help make data-driven decisions and better optimize the website
You can find out which screen recorder is the best by clicking here
The Solution
We noticed that there's no such potential tool available in the market that could accomplish our requirements. And then, we decided to build the tool on our own. We came up with SiteRecording – our one-stop solution to counter all the challenges mentioned above, and bolster any marketing team to deal with issues in the likes of bounce rate, conversion, drop-off, etc.
We noted that the solutions available in the market are not loaded with the necessary capabilities to empower marketers to deal with prevailing challenges.
SiteRecording: Key Features
Whenever a user visits a website, SiteRecording starts recording all engagement, such as mouse tracking, clicks, and more, and then compiles and stores these data along with the actual video. Marketers can leverage insights to make data-driven decisions and better optimize the website.

We understand the necessity to find realistic ways to track user behaviors in any of the business sectors, which is why SiteRecording was built to help our clients leverage user behavior analytics to track and monitor user journeys effectively.
Some of the key features of SiteRecording are as follows:
Insightful dashboard to view all of user behavioral data
Segmented visitors to track specific portions of the website
Heatmaps for specific web pages to track clicks, mouse movement, scrolls for both web and mobile visitors
Custom tag filters on session recordings, web analytics, and engagement trends
A/B testing of your website by comparing it to other versions
Filter data to view by date of creation, version name, number of visits, bounce rate and more
Value Proposition
SiteRecording is a robust tool to track and understand the website visitor behavior. With this, you can create effective marketing strategies and deliver a better user experience to your website visitors.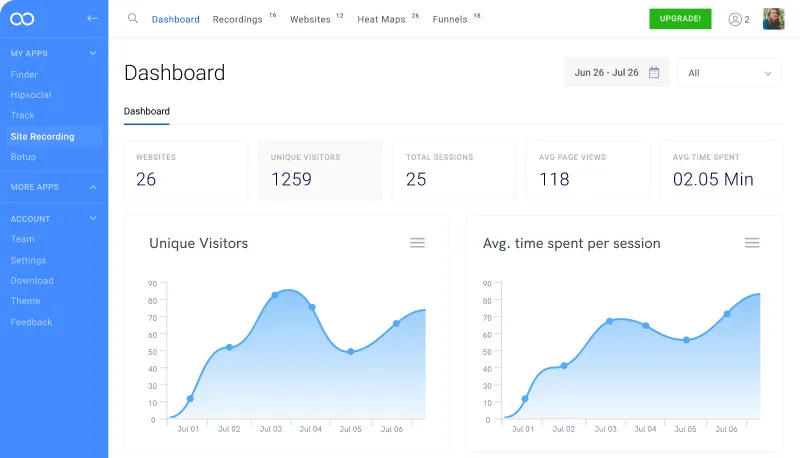 Here are some of the key benefits you'll get:
Learn more about user behavior and optimize the website for the best UX
Discover and solve customer journey mapping roadblocks faster
Reduce bounce rate and optimize conversion funnel
Improve user onboarding experience
Evaluate and fine-tune the efficiency of each page of the website
Apply insights to the other marketing activities
Improve the quality of customer support
Final Thoughts
With a mission to empower SMBs to function like Fortune 500 companies, we've built an app gallery that combines over 500 apps, and SiteRecording is the latest addition to it. SiteRecording empowers businesses to optimize the website according to the context, timing, and need of the visitors. If you offer your visitors exactly what they are looking for, they'll be more likely to land, browse, and convert, improving your website sales and leads.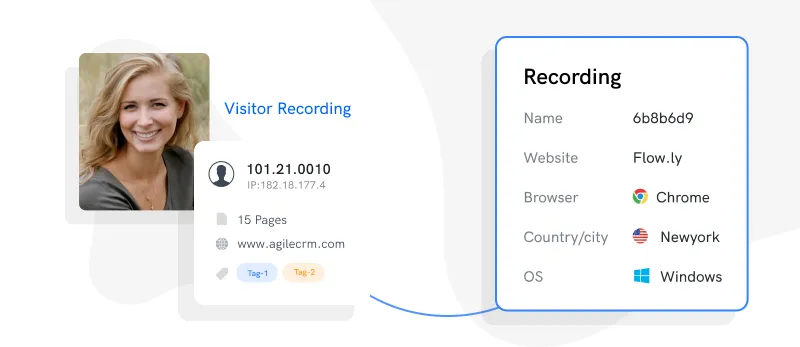 Now over to you! Start exploring website recording software free trial for 14 days and we guarantee that the extraordinary capabilities of the tool will help you transform your marketing for better sales and business growth.
Why SiteRecording?
#1
Distinctive Dashboard Analytics
#3
User Behavior Analytics
#4
Improved Engagement Rate
#5
Real-time Monitoring System
#6
Customer Behaviour Analytics
#7
User Experience Optimization
#8
Improved Conversions & Revenue
#9
Unbelievable pricing - the lowest you will ever find
#10
Everything your business needs - 50 apps, 24/5 support and 99.95% uptime